King Crab Facts
Interesting Alaskan King Crab Facts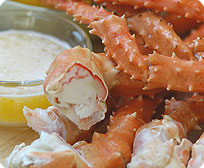 King crab is the largest of all commercially harvested crabs, growing up to 6 foot across (measured from leg tip to leg tip) and can weigh as much as 10 pounds.

The world record king crab tipped the scale at almost 25 pounds.

King crabs have six walking legs, a huge killer claw along with a feeder claw.

The best meat from the king crab comes from the upper part of the walking legs. King crabs are found in the waters of Southeast Alaska and in the Bering Sea on flat surfaces of the sea floor. Alaskan king crab are usally found in shallow waters of 60-100 fathoms and are often found moving in herds along the flat ocean floors.


More King Crab Information
Out of all the crabs, I find the king crab meat to be rich, moist and sweet. The leg meat texture is firm and the body meat is flakier. You will find that the best flavor is just after thawing. The meat is already pre-cooked so you can serve it hot or cold. If adding it to soups or stews, add it in at the very last and give it 5 minutes to get hot.
Ways to Cook it:
Bake, Broil, Grill, Steam
Here are more detailed instructions on
cooking king crab legs
.
Texture:
Medium
Flavor:
Mild to Moderate
King Crab Substitutions
Other types of crabs such as Snow crab, Blue crab
Common Names for King Crab
King Crab, red king crab, Alaska king crab, brown king crab

King Crab Nutrition Facts
Serving Size:100g/3.5oz. (raw)
Amount Per Serving
Source: USDA

Calories:84
Fat Calories:5.4
Total Fat:0.6g
Saturated Fat:0.1g
Cholesterol:42mg
Sodium:836mg
Protein:18.3g
Omega-3:N/A
Thanks for Supporting the Cookingfishmonger
Purchasing items from Amazon helps support this site